Valentine's Day is a day of romance and chocolate and (best of all), love. While celebrations on Valentine's Day are usually limited to couples, there's no reason why everyone can't get in on the action, and that includes your pup(s)!
We know you love them to the moon and back, and they feel exactly the same way about you. And they don't just show it once a year! Dogs show you their love in a hundred tiny ways, some of which you may not always notice.
You can show them affection back by spending extra time on a walk or at the park, playing with a ball in the backyard or baking up some fun V-day themed dog treats. As our treat to you for the holiday, we thought it would be fun to round up 12 ways your pup says I love you to you throughout the year.
1 Playing with you :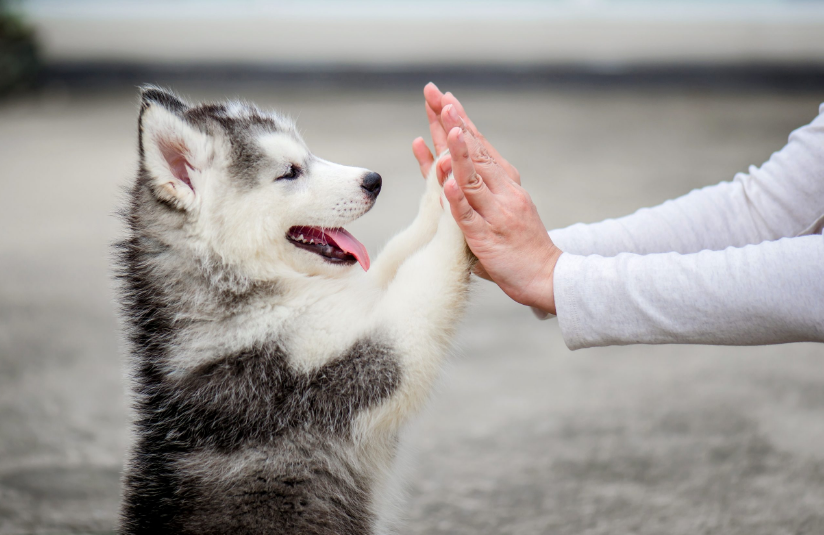 It's not uncommon for our furry friends to get a bit frisky and start playfully wrestling with us. While it may catch us off guard or seem like an unexpected interruption, it's important to remember that this is completely natural behavior for dogs. In fact, if you've ever watched your pup play with another dog, you'll recognize that they offer the same playful advances to their human companions. Not only is wrestling with your pooch a safe and enjoyable activity, but it can also strengthen the bond between you and your four-legged friend. So don't be afraid to roll up your sleeves and engage in a bit of playful roughhousing with your furry companion!
2. Your dog makes eye contact with you :

They say the eyes are the window to the soul, and for dogs, that may be especially true. Eye contact is a powerful tool for our furry friends, conveying a range of emotions and messages. Perhaps your pup is hungry and eager for dinner, giving you the classic puppy dog stare. Or maybe he's feeling proud and confident, holding your gaze with a wagging tail. But eye contact can also signal something deeper, a desire for connection and understanding. When your dog looks into your eyes, take a moment to truly see him, and let him know that you're there for him too.  Looking into your dog's eyes can be a heartwarming experience, and thanks to the hormone oxytocin, it's also beneficial for both of you. This chemical is often referred to as the "love" hormone, responsible for feelings of bonding and attachment. It's no wonder that gazing into your furry companion's eyes can feel so rewarding. Not only do you get to connect with your pup on a deeper level, but you're also both experiencing a natural high. So go ahead, get lost in those big, soulful puppy dog eyes and let yourself be transported to a place of love and contentment.
3  Jumping on you : 
When your loyal furry friend jumps up to greet you, it's easy to get frustrated and scold them for their behavior. However, it's important to remember that dogs are social animals and use physical contact to communicate their emotions. In the case of jumping, it's a clear sign that your pup is overjoyed to see you! As their owner, it's up to you to redirect their behavior towards something more appropriate. Instead of punishing your dog for their excitement, use positive reinforcement techniques to teach them how to greet you in a way that's safe and respectful. With a little patience and consistency, you can train your pup to show their affection in a way that works for both of you.